This quick and easy spicy tuna quesadilla finally gives us something different to do with that protein powerhouse, canned tuna! It's crispy, cheesy, flavorful, healthy deliciousness.
Just to keep you guys updated, we still have no clue where we're moving to. Ugh. <taps foot impatiently> Allegedly, we're supposed to know by Friday and even though I do realize that Friday is only two days away, it really couldn't get here soon enough! Anyway, at least my belly has been full of yummy food while I wait. I've been trying to distract myself with recipe testing 🙂
Speaking of which… so… tuna. It isn't exactly sexy, is it? I get it. Maybe you're even a little afraid to try it. If you're a person who doesn't like "fishy" fish, than guess what? Tuna is for you! It's decidedly not fishy, but has a meaty taste all it's own and can be pretty darn fantastic. Also, let's be real, it's one of the cheapest protein sources out there, not to mention crazy-convenient. Because of all of these things, I've been giving tuna some serious thought lately. Mostly wondering why tuna doesn't get the love it deserves. Well, canned tuna anyway. And clearly it's deserving of love. However, it's a pretty rare thing to see it used in any way other than the ubiquitous tuna salad sandwich or tuna noodle casserole.
So wanting to come up with a tasty new way to enjoy some canned tuna fish, I came up with this super-simple quesadilla. It's spicy, it's cheesy and that 2-Ingredient Blue Cheese Dressing? Come on! It doesn't get any easier and it's SO so good. Plus, a hot & filling lunch with ingredients you probably already have in your house and it's ready to eat in under 10? Yes, please!
All you have to do is mix together these 4 ingredients:
This ↑ turns into this ↓
Spread the mixture over one half of a whole wheat tortilla:
Sprinkle the shredded cheese on top of that:
Fold in half and cook in an olive oil cooking sprayed skillet for a few minutes on each side or until both sides are golden brown and crispy:
Serve with the blue cheese dressing and enjoy!
A couple of quick thoughts on this:
If you're:
in a hurry or don't have any on hand, you can skip the celery. It's still tasty without it, but having that extra crunch in there is really nice.
not into blue cheese, you can always use a little 21 Day Fix Ranch or even some plain Greek yogurt instead 🙂
wondering how much tuna you can eat in a week, this handy dandy seafood calculator will take into account your weight, age and gender and tell you how many servings you can eat per week due to mercury levels in the different kinds of fish. I'm able to eat 2 cans of tuna per week. Since I don't eat tuna every week anyway, I don't worry too much about it, but if you're someone who does, then it's definitely something you should be thinking about.
Yep, I think that's everything. Happy Wednesday!
Oh! And don't forget to save this Spicy Tuna Quesadilla to Pinterest ↓!
If you make this spicy tuna quesadilla, be sure to snap a pic and tag me @thefoodieandthefix on Instagram so I can check it out! It makes me ridiculously happy to see what you guys are making 🙂
Spicy Tuna Quesadilla with 2-Ingredient Blue Cheese Dressing
Ingredients
1 can tuna, drained
2 Tbs finely chopped celery (optional, but awesome)
1 1/2 Tbs plain Greek yogurt, 1% or nonfat
1 Tbs hot sauce (I used Cholula)
1/4 cup shredded monterey jack or mozzarella cheese
1 whole wheat tortilla
Blue Cheese Dressing
1 Tbs blue cheese
1 1/4 tsp water
Instructions
Spray a skillet with olive oil or coconut oil cooking spray and heat to medium.
In a bowl, mix together the tuna, celery, yogurt and hot sauce until fully blended.
Spread on half of a whole wheat tortilla. Sprinkle the shredded cheese on top of the tuna mixture, then fold the tortilla in half.
Place in the hot skillet and cook each side until crispy and golden brown.
While quesadilla is cooking, whisk together the blue cheese crumbles and water until relatively smooth (a few cheesy chunks here and there are no big deal, unless they are to you, in that case, whisk until completely smooth!).
Cut quesadilla into 4 triangles and serve with the dressing.
Notes
21 Day Fix Container Equivalents: 1 Red, 1 Yellow and 1 Blue
Weight Watchers Freestyle Points: 9
Nutrition Information:
Yield:

1
Serving Size:

entire quesadilla
Amount Per Serving:
Calories:

373
Total Fat:

12g
Want some more fun ways to use canned tuna? You KNOW I've got you 😉
Easy and Healthy Tuna Casserole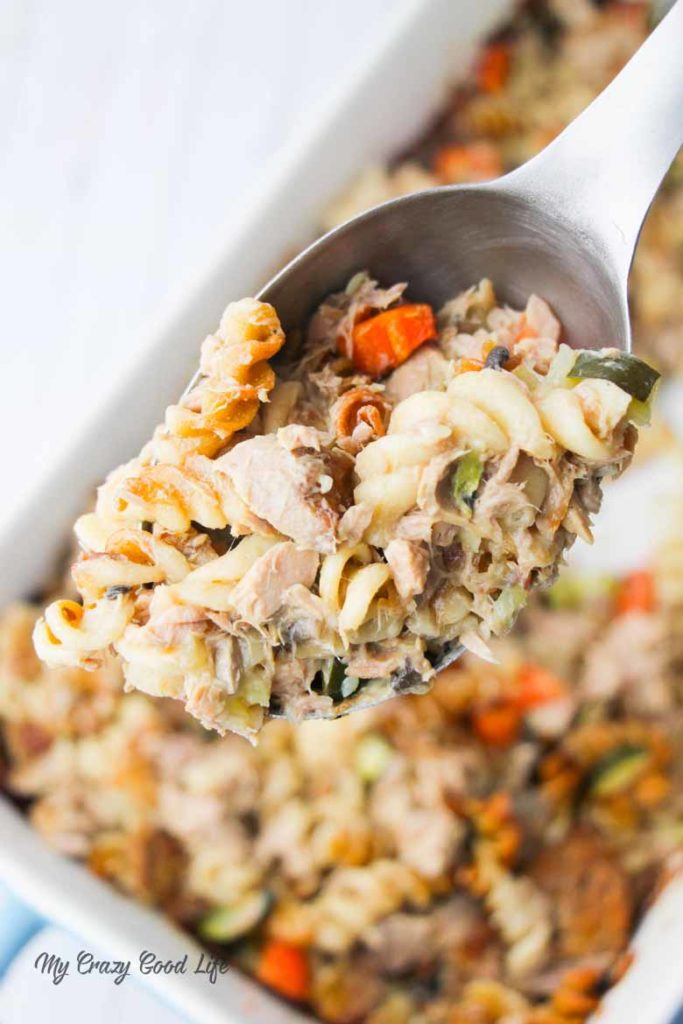 No-Mayo Mediterranean Tuna Salad
21 Day Fix Red Bell Pepper Tuna Wraps