This 21 Day Fix French Onion soup is rich, silky and basically the best thing onions have ever turned into. Ever.
Hey peeps! So I know I've been posting lots of quick, tasty recipes for the Instant Pot lately... like this one and this one and oh man, this one - but this isn't going to be one of those. Because there are some things in life that just can't be rushed. Special things. Like wine. Wine will not be rushed. Also, I cannot be rushed whilst drinking said wine. But more importantly, a perfectly caramelized, perfectly rich and silky French Onion soup cannot and should not be rushed. It's the things that takes a little extra time that are the most worth it in the end.
Or at least that's what I say to my husband when he's been waiting on me to get ready. #Ididnotwakeuplikethis
I digress. I've had this one on my to-do list for quite a while now and I'm so glad I finally got it up on the blog! It is the sexiest soup* after all. One of the things I love most about it is how it turns something as mundane as a bowl full of onions into something so luxuriously magical. One of cooking's greatest feats if you ask me. Oh! And just so you know, while this 21 Day Fix French Onion Soup may be a little lighter on the fat and calories, it is not light on luxury or flavor. It is honest-to-goodness, lick-the-bowl clean delicious and I know you're going to love it.
A couple of quick notes:
On the cheese - I used sliced swiss cheese from Sargento, but if you prefer a stronger cheese, go ahead and use 2 ½ tablespoons of grated gruyere, no big deal!
Something that always annoys me when I order French Onion Soup in restaurants is that most places use 1 whole piece of toast on top that is basically impossible to get through without making yourself crazy, so because I like myself (and you!) I made croutons for my version and it's so much better! Why isn't everyone doing this?!
Btw, since I'm the only person in my house with the French Onion soup fever, I can also attest that it freezes beautifully! I've been making it, then leaving out enough for me to have for lunches throughout the week and then freezing the rest. It's perfect and frankly who wants to share anyway? Enjoy!
*I made this up, but I'm preeeetty sure it's true.
**Special shout-out to our friends, the Darbys who so graciously lent me their grandma's soup crocks for these photos! Thank you!
***Looking for soup crocks like these? These ones look great! <- affiliate link!
If you make this 21 Day Fix French Onion Soup be sure to snap a pic and tag me @thefoodieandthefix on Instagram so I can check it out! It makes me ridiculously happy to see what you guys are making 🙂
📖 Recipe
21 Day Fix French Onion Soup
Cook Time:
1 hour
50 minutes
Ingredients
Soup:
2 Tbs butter
4 lbs sweet onions (about 5 large or 8 cups sliced)
¼ teaspoon salt
¼ - ½ teaspoon black pepper (I did about 24 cranks of my peppermill)
1 cup dry sherry (not cooking sherry!)
8 cups of low-sodium beef broth (I love Imagine organic because the sodium is particularly low)
10 sprigs of thyme (I really just grab a small bundle)
1 or 2 large sprigs of rosemary
2 bay leaves (if you've got 'em, if not don't buy them just for this)
cooking twine
Croutons:
3 slices of whole grain or whole wheat bread (about 50 calories per slice), each slice chopped into 12 cubes
Cooking Spray
garlic powder 
dried thyme
For Serving:
Homemade Croutons
6 slices of all natural Swiss Cheese (I love Sargento)
6 individual soup crocks or oven safe bowls
Instructions
Heat a large, heavy-bottomed pot to medium heat and melt the butter. Add in the sliced onions and cook, stirring every now and then until softened, about 15 minutes or so. Add the salt and pepper and continue cooking, stirring occasionally until caramelized, 45 - an hour.
Raise the heat to high on your burner and add in the sherry, deglazing the pan and getting up all of the browned bits on the bottom. Cook on high for about 10 minutes or so, or until most of the liquid has evaporated. Keep an eye on this to make sure it doesn't burn towards the end when there is little liquid left.
Add in the broth and the herbs (tying them together with some cooking twine so you can remove them easily). Continue cooking on high until it comes to a bubble, then turn down the heat a bit until it's at a good simmer (this was about medium-high on my stove, but it's electric, so it would probably be lower on a gas stove), then simmer uncovered for another half an hour or so until the broth has thickened and it tastes so freaking good you want to drink it.
Croutons:
Preheat oven to 375 degrees.
Lay out the bread cubes on a baking sheet, lightly spray them with cooking spray and sprinkle lightly with a bit of thyme and garlic powder, toss. Bake for about 8-10 minutes, flipping them over halfway through or until they're dried out and toasted. (Once these are completely cool, you can put them in a baggie and they'll keep for several days!)
To Serve:
Put 1 ⅓ cup of hot soup in each soup crock, top each with 6 croutons, then cover each with a slice of cheese. Pop them under the broiler on low until cheese melts. (I usually don't bother preheating the broiler, but feel free!) Be sure to watch it carefully so the cheese doesn't burn. This took about 2 minutes under my broiler, but each is different. You could also use a kitchen torch to melt the cheese if you've got one (I'm always looking for an excuse to use my kitchen torch!). Enjoy!
Notes
21 Day Fix Container Equivalents per Serving: 1 ⅓ Green, ½ Yellow, ½ Blue, 1 teaspoon
Weight Watchers Freestyle Points: 7
Recommended Products
As an Amazon Associate and member of other affiliate programs, I earn from qualifying purchases.
Nutrition Information:
Yield:

6
Serving Size:

1 ⅓ cups
Amount Per Serving:
Calories:

283
Total Fat:

10g
Save this 21 Day Fix French Onion Soup to Pinterest! ⇓
Looking for more soups? Here are a few that'll leave you wanting more. I've got you.
21 Day Fix Broccoli Cheese Soup {Instant Pot | Stove Top}
21 Day Fix Zuppa Toscana - Confessions of a Fit Foodie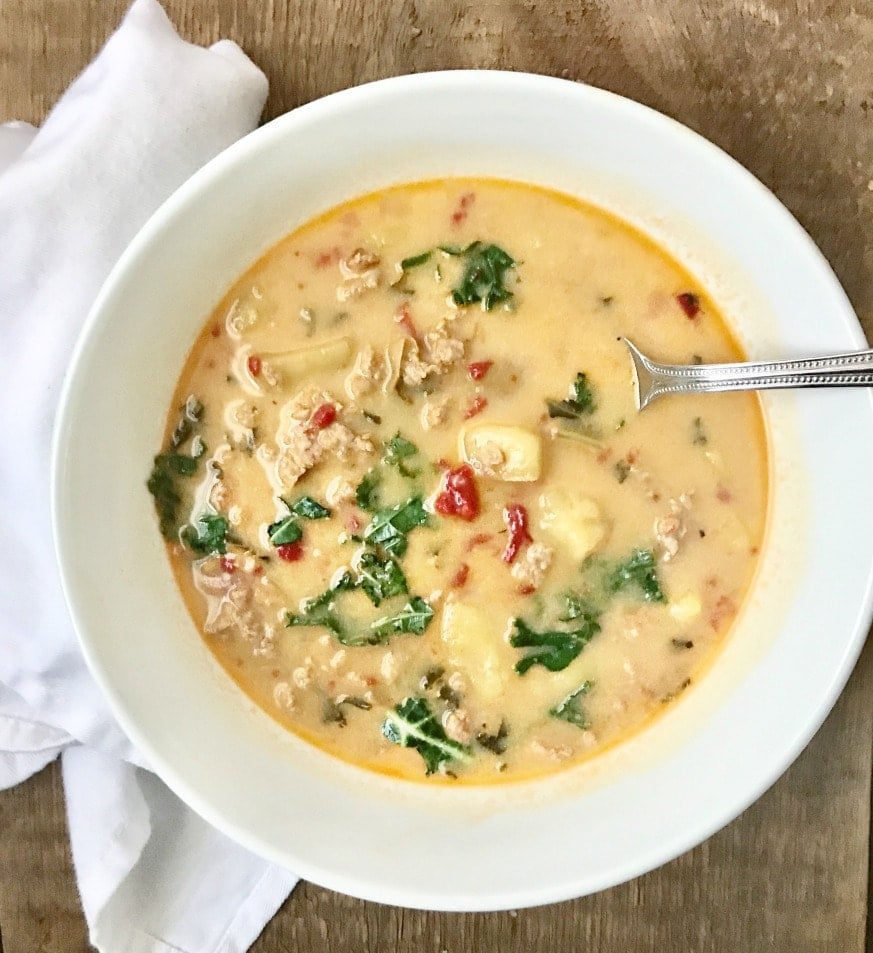 21 Day Fix Stuffed Pepper Soup {Instant Pot | Crock Pot} - My Crazy Good Life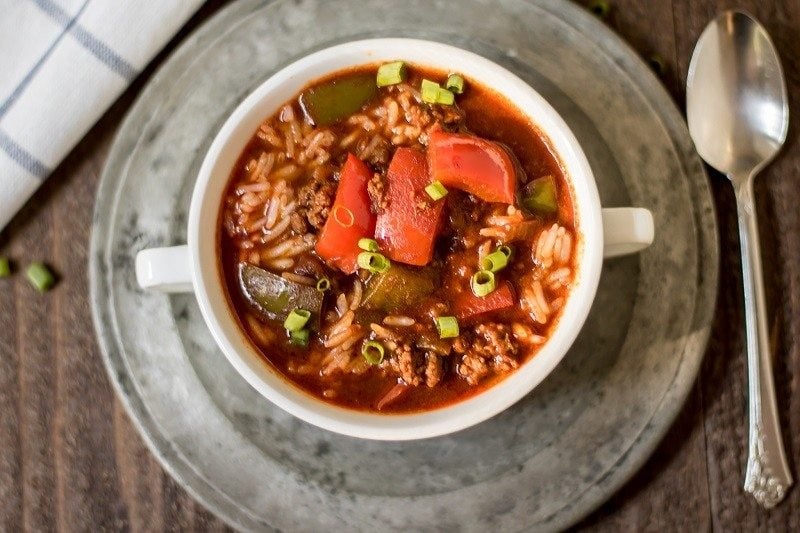 21 Day Fix Thai Carrot Curry Soup - Carrie Elle